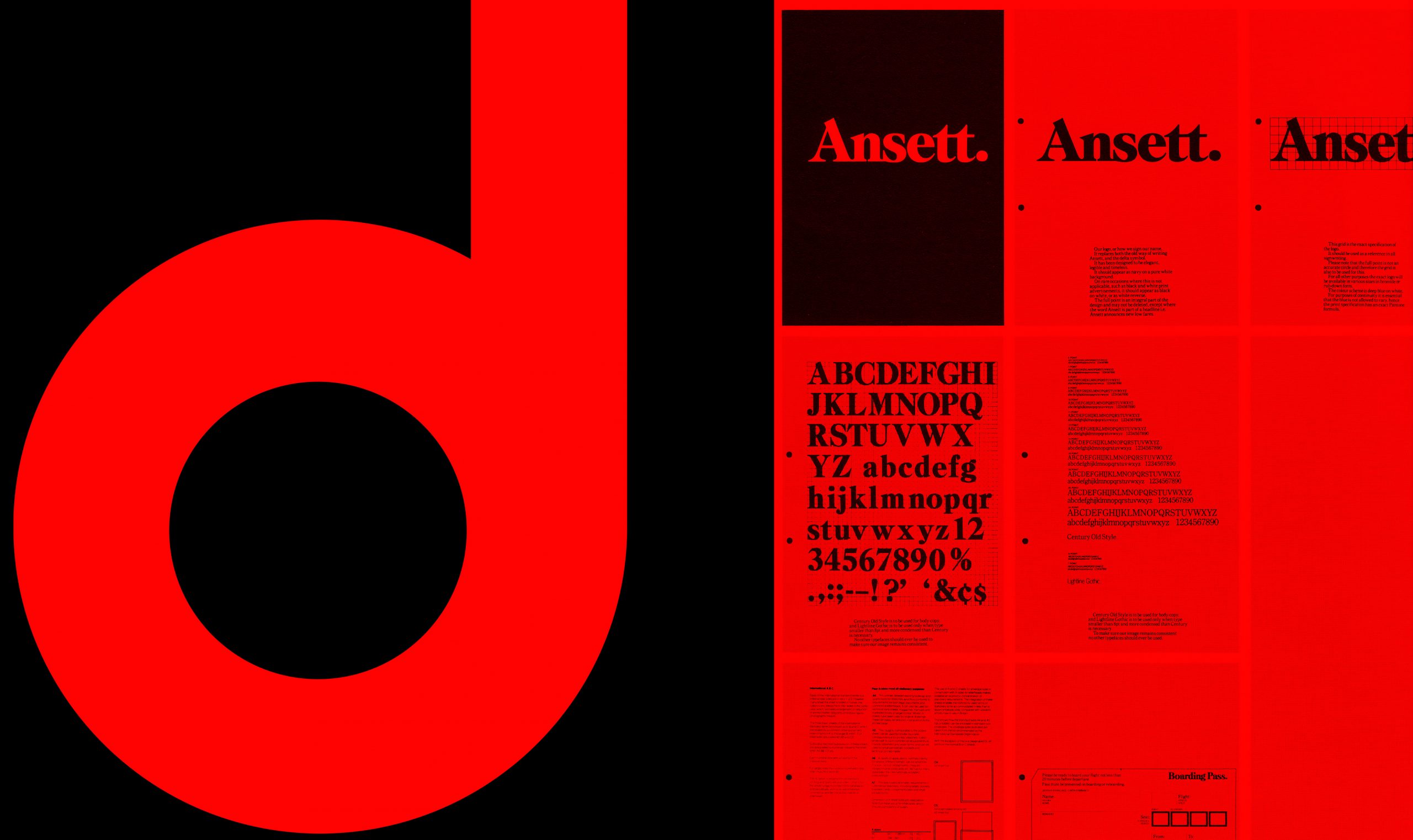 Ghostfaces
Typefaces come and go, they live and die. When bespoke corporate typefaces are created, their designers have no way of knowing the lifespan of their creations. Some of these typefaces are commissioned but never applied, others become instantly redundant after the most fickle branding restructures, while others simply fall alongside the business for whom they were created. Stephen Banham looks into these Ghostfaces, the faint traces of corporate typographic voices.

Ansett Caslon (1989–2001)
Designer: Brian Sadgrove
Specified as part of a larger branding campaign by Sadgrove Design in conjunction with Lionel Hunt and Ron Mather of the Campaign Palace in 1989 when Reg Ansett sold his airline to Sir Peter Abels and Rupert Murdoch. The airline had been initially called just 'Ansett.' – the full point lending the single name some visual authority and decisiveness. The word 'Australia' was added in 1991 along with a simplified nationalistic tail, presumably to cultivate marketing appeal to overseas tourists. As Brian Sadgrove recalls "Lionel convinced them to 'paint it (the plane) white and put your name on it'. The re-paint of the fleet was already underway in America so we were stuck with an elaborate treatment of the tail but were able to keep the fuselage clean". "Caslon was chosen because it has a simple authority about it, the tt's could be ligatured well and whole look wasn't too designery. Pretty much everything ended up kerned and with a full point after it, which in hindsight seems a little 90's excessive".
The truetype digital version of Ansett Caslon (designed to run on Mac OS6 no less) features one of the classic hallmarks of a customised typeface – a set of specific brand ligatures (combinations). Option Shift A would deliver a perfectly kerned Ans, Option Shift N the ett, Option Shift S the Aus, Option Shift E the tra and Option Shift T the lia. All conveniently located on the keyboard to spell out the word 'Ansett'. The Ansett cut of Caslon was only used for display, whilst text setting was specified in Century Old Style. Reflecting on the project, Sadgrove is philosophical about the ultimate demise of the airline only several years later "The original design was all changed before the airline died, so be it…"

Harmony (1998–2011)
Designer: Jeremy Tankard
Commissioned through The Partners, the typeface Harmony was designed by Jeremy Tankard in 1998 for Telstra. Developing the idea further than the initial plan to do a remodelling of Sasson Primary (1988), Tankard managed to convince them to develop a distinct (and multi-lingual) typographic voice from scratch yet keep some of the flavour of Sassoon Primary. And so for over a decade, the typeface was rolled out across the plethora of corporate and public communications for Telstra with great success, lending the very large organisation a single, strong and unique typographic identity. The secret of its success lay in the wonderful synthesis of sans serif utility and humanist warmth.
In September 2011, a massive rebrand of Telstra was launched to address the structural diversification of the organisation. Amidst the vibrant colour spectrum of this new identity Harmony was nowhere to be seen. But Tankard is philosophical about the decision. 'Nowadays we live in a world where design is a commodity, big time, and people use it and throw it easily. Design, when done well, works and can withstand whims of fashion. But this is hard to do as the core part of a brand is fashion, so it's on rocky ground from the start. Types for branding do, by their nature, have a limited life span…'.
The constant need for re-branding has a direct effect of aborting a more enduring cultural language of graphic design. As Tankard notes 'If the London Underground identity was done now, it may not last. But because it lived through the period when no-one redid designs (before 'branding' as such) it survived and is now seen as an asset to London…'.

Recital Sans (2005–2007)
Original Sketches: Eric Gill Digital Reworking: Niels Oeltjen at Letterbox
As part of the visual identity for the Melbourne Recital Centre (then being built in Southbank) a display face was developed to support the main identity mark. Although drawn from the ground-up, Recital Sans is in fact the newest incarnation of a long typographic lineage stretching as far back as the 1920s. Originally sourced from some rough sketches in Eric Gill's An Essay on Typography, the typeface was designed in both a roman (upright) and an italic. In the early 2000s the Swedish foundry Fountain had drawn a version of the Gill sketches, naming it in homage Eric Sans. Although the Fountain face was reasonably faithful to the original, the letterforms were very crudely drawn and not of a quality that could be used.
As it was intended that Recital Sans be used across a wide range of promotional material such as press ads and programmes, the new typeface had to build upon Gill's original framework adding a cleaner and more consistent appearance. A more uniform stroke width was used throughout and the more ideosyncratic curves tempered for greater legibility. The Recital Sans typeface then became part of the 'toolbox' of the visual identity for the Centre, intended to be used for the coming promotional campaign for its opening in 2009. But within a year or so, the promotional design contract was put to tender and won by another firm. Although the typeface features in the Melbourne Recital Centre Style Guide, it now quietly resides on a hard drive, its only venture into the outside world being a brief and well received dalliance during the identity design presentations.

TRAK (c. late 1960s)
Designers: Alex Stitt, Bruce Weatherhead. Drawn by Ian Hawksby.
Trak was part of an identity design project to promote the then new arcade and cinema complex in Toorak Road, Toorak. The abbreviation of Toorak to 'Trak' by the local ladies inspired the naming of the arcade. The typeface was so named and began appearing on external and internal signage. It was even handed out to the arcade retailers for their own usage (a more complex process in a pre-digital age).
Influenced by an international wave of typographic modernity referencing earlier Herbert Bayer faces such as Universal (1925) that spurned typefaces such as Avant Garde (1970) and Bauhaus (1975). Its typographic lineage is perhaps closest to Blippo Black (1969). As Stitt admits himself "Modernism was in'. As a resultTrak is very much an exercise in geometry and is certainly a typeface of its day. Its charm to our eyes today is of a rather niavely-drawn revival. The Trak arcade and cinema eventually fell upon hard times and closed in the early 2000s. And with it the typeface of the same name became history.