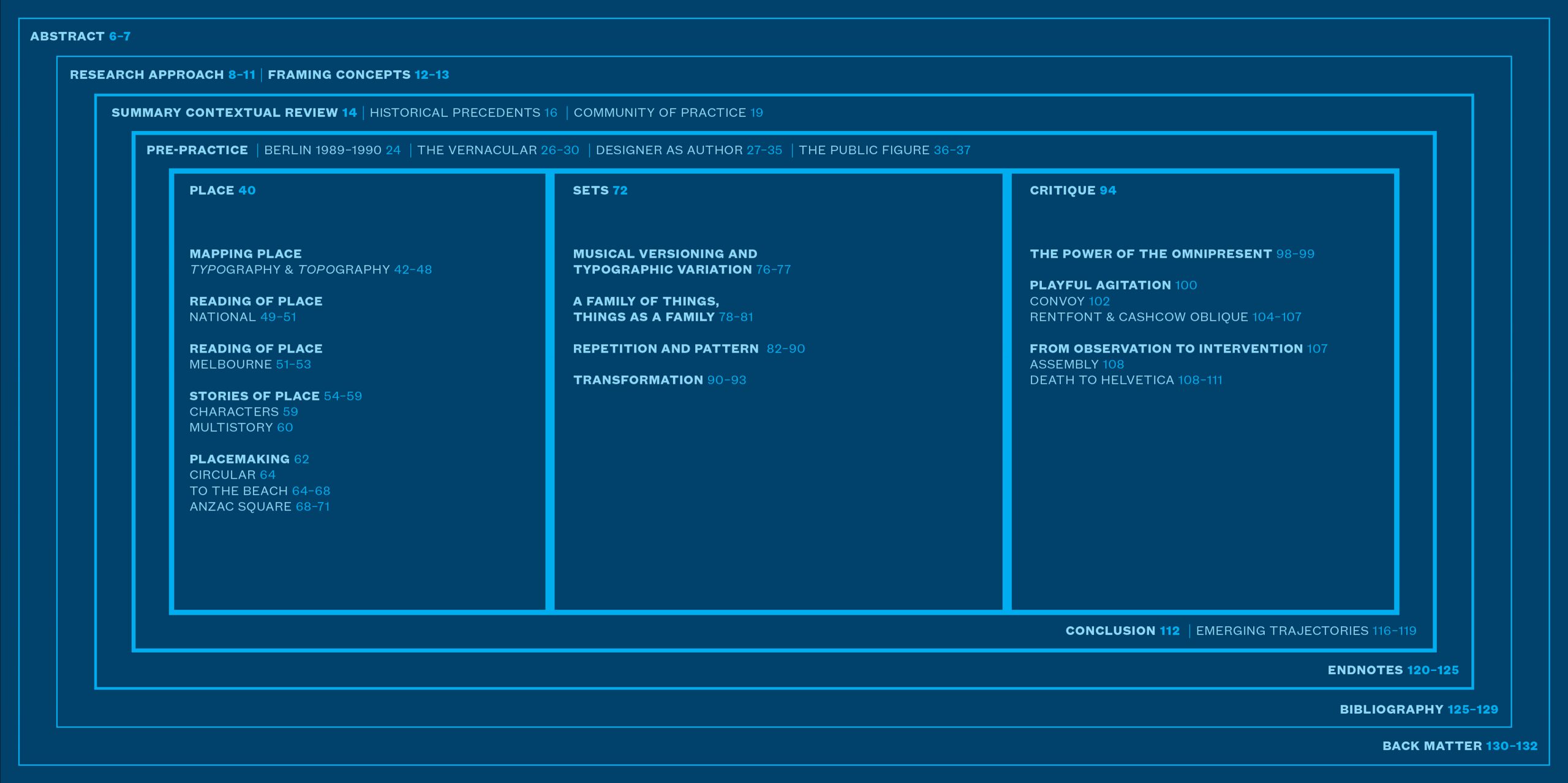 The Legible City:
Stories of place told through a typographic lens.
This research proposes a mode of telling stories of place and history through the eye of the typographer: How can the world be made legible through a typographic lens?
————————————————
abstract
This research proposes that the perspective of the typographer – namely the ability to see nuance and pattern – can offer clarity to phenomena beyond conventional letterforms.
Framing the research through Nigel Cross' proposition of a 'designerly way of knowing', I explore how a typographic viewpoint becomes a 'typographic way of knowing'. My research centres on the capacity of this 'typographic lens' to uncover underlying narratives and connections to larger social systems including economics, politics and social history. My investigations seek to contribute new knowledge in developing and articulating the uses of this unique prism.
My research begins with understanding how this 'typographic way of knowing' was initially formed during my pre- and early practice period, and the ways in which it was informed by discourse around concepts of the vernacular and designer authorship. Subsequent reflections map how the observationally-based first decade of my practice gradually transformed into a deeper and more nuanced investigation of how typography can create narratives that reflect, express and critique – especially narratives relating to place. The typographic way of knowing uses these specific sensitivities to recognise underlying familial relationships between sets, patterns and repetitions. When these are articulated through storytelling they offer a capacity for critical engagement in matters that are often considered outside conventional design discourse.
This process of reflective research has led to a greater understanding of my own practice, specifically its underlying knowledge base, its capacity for storytelling and its critical intentions. My investigations have also uncovered a steady evolution in the articulation of discourses larger than my own discipline through my own discipline. Whilst the reflection upon practice has continually informed and contextualised my thinking and analysis, it is through the making of projects during the candidature that this evolution has become most evident. An ultimately practical use of my research is that it offers a compelling model in how a typographic way of knowing can be used to develop and disseminate stories that contribute to an understanding of typography's broader cultural significance.
————————————————
The document is available for download from the RMIT Research Repository.